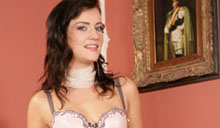 ALL ABOUT COUGAR PHONE SEX - WHY ARE WE SPECIAL?
We were one of the first phone sex services anywhere to specifically offer cougars for your fantasy calls. We didn't just tell our mature ladies "OK, you're a cougar now" - we actually found hot, real cougars to take your calls. When you combine that with our long-time service providing calls with mature women, MILFs, moms and even grannies, that has made us the most complete service of our kind, ever. Some of our ladies have been with us for almost ten years, so they're experienced in every sense of the word.
All that experience means something else as well - add it to the wide selection of women who we have available, and it means we're uniquely able to handle any fantasy you may have. We've recruited a lot of the dirtiest, nastiest cougars, bobcats and MILFs to take your calls - we've also got twisted moms and sex-crazed grannies on call 24 hours a day. Whatever your desires - we've got them handled.
24 Hours a Day.
888 - OLDER - 28.
[ Back to top ]
IF I CALL FOR COUGAR PHONE SEX, IS THERE ANYTHING TO WORRY ABOUT?"
Not at all. Our service is 100% private and discreet - after all, we wouldn't still be in business if we weren't. There's never been a single caller whose privacy has been compromised - and there never will be. Honestly, if we weren't 100% discreet, and pretty soon everyone would know and we'd be out of business.
MILF, Cougar, Mature Phone Sex.
Nothing is taboo - we love your special fantasies.
888 - OLDER - 28.
[ Back to top ]
WHAT WILL I BE ASKED WHEN I CALL?
First, you'll hear a brief recording about our service (legally we have to do that for legal reasons) - then, you'll enter your credit card number (or press "1" to pay by check) - don't worry, you won't be charged at this point. With that out of the way, a live receptionist will then come on the line and she'll double-check your payment details.
Then comes the important stuff: she'll ask you the details of the cougar phone sex call you're hoping for. The more details you can give her about the lady and the phone sex that you're looking for, the better she'll be able to match you to the perfect cougar. And if you have a special request - whether it's for a cougar, MILF, mature, bobcat or older lady you're seeking - just let the receptionist know. All of our people have many years of experience setting up the right lady for every call; after all, that's how we stay in business - by making you happy!
Have a forbidden or taboo request? Looking for several cougars on a single call? Want to fulfill a fantasy you've never been able to discuss anywhere? That's exactly what we're here for. No one is judging you or your fantasy; we just want make the fantasy come true for you.
Cougar Phone Sex. Always Open.
888 - OLDER - 28.
[ Back to top ]